Making the Most of Your Olympus OM-D Camera
A 2-Day Intensive Workshop with Dan Burkholder

Friday, March 3 (9a-5p) and Saturday, March 4 (9a-4:30p)
Cost: $560.00 • Limited to 9 participants!

SPONSORED BY OUR LOCAL, FULL-SERVICE CAMERA STORE,
COMPETITIVE CAMERAS. Thank you Competitive Cameras!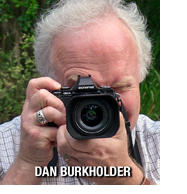 Sun to Moon Gallery is pleased to announce this creative photography workshop with Dan Burkholder. By limiting the class size to 9, our goals are to super-serve workshop attendees and provide them the best learning experiences anywhere.
Call 214-745-1199 today to reserve your place.

The Olympus OM-D (and Pen-F) mirrorless cameras offer a compact, full-featured solution to your serious image-making goals without sacrificing optical excellence or photographic precision. But as a new breed of camera, the OM-Ds include many features and options that take some practice if you are going to get the best photos consistently with the least hassle.
What you'll learn:
– Master your camera's Menus once and for all. Discover where the good stuff is hidden, how to use it, and how to Save Settings to save time and headaches in the future.

– Learn how the latest Firmware adds amazing features & capabilities to your OM-D. Your macro and low- light shooting will never be the same with in-camera Focus Stacking and Live Composite shooting.

– Learn about Olympus (and 3rd party) lenses and gizmos that will add even more fun and excitement to your photography.

– See how easy it is to setup your OM-D for the style of photography you like, whether it's shooting landscapes, street scenes, portraits or macro work. No approach will be ignored.

– See how easily you can build a compact camera system for travel shooting, professional use or personal enjoyment.

– Enjoy your mirrorless photography with new confidence as you master your Olympus OM-D.

– Lectures and demos will answer all your questions and excite you with new ways to be creative with your OM-D.

Optional field trips (Friday after dark along the Trinity River and Saturday sunrise) let participants try new techniques and make fresh images at the same time.
Enjoy your mirrorless photography with new confidence
as you master your Olympus OM-D!
Prerequisites for the Class
Participants should bring their Olympus OM-D camera. Models featuring built-in WiFi are encouraged but not necessary. Don't forget extra batteries, USB cables and user manuals. Bring iPads, iPhones (or other tablets) if you have them.
A comprehensive "Preparing for Class" letter
will go out to participants before class.
Cost: $560.00 • Lunch both days included · Mastercard, Visa, checks accepted.
CALL 214.745.1199 to sign up. Limited to 9 participants.


DAN TALKS ABOUT OLYMPUS OM-D CAMERAS...

It was autumn of 2011 when I dumped the heavy, bulky,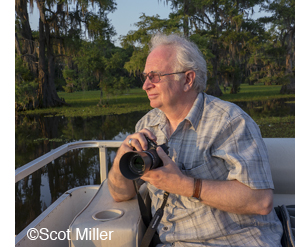 clanging-mirror DSLR and moved to the compact, lightweight, and optically superb world of Olympus OM-D photography. Six years later there are no regrets as my neck and shoulders thank me every time I go out the door.
Now, I can't imagine using a camera without a touch screen (just tap to set your focus point), in-body image stabilization (EVERY lens is stabilized), a bright electronic viewfinder (that shows a histogram, shadow/highlight clipping and so much more), and a weather sealed body and lenses that make shooting in ANY weather a no-worries proposition.
With dozens of excellent lenses and accessories to cover any shooting need, it's a welcoming, fun world for photographers!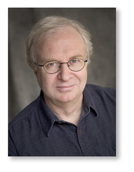 About the Instructor
Dan Burkholder has been teaching digital imaging workshops for over 20 years at venues spanning three continents and several island countries. His award-winning book, Making Digital Negatives for Contact Printing, has become a standard resource in the fine-art photography community. Dan's book, The Color of Loss (University of Texas Press, 2008), intimately documents the flooded interiors of post-Katrina New Orleans and is the first coffee table book shot entirely using HDR methods.
By sharing his pivotal methods, Burkholder has become a unique teacher and mentor for thousands of photographers by bridging the worlds of classic photography with the evolving digital era. He continues to forge ahead into new areas of photography, preaching the fine art potential of the Apple iPhone and the smaller micro 4/3 cameras.
His innovations introduced two original darkroom techniques, creating the pigment over platinum print in 2001 and the platinum over gold leaf print in 2007.

Dan's workshops are famous for their energy, information and humor.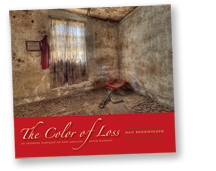 Special Offer for
Workshop Participants only
Save $20 on an autographed copy of
Dan Burkholder's "The Color of Loss"

Dan's The Color of Loss (University of Texas, 2008) documents the flooded interiors of post-Katrina New Orleans and was the first coffee table book made entirely with HDR techniques.
NORMALLY $50- Only $30 for workshop participants
WORKSHOP DEPOSIT, CANCELLATION and REFUND POLICY
The full amount of $560 is due at sign up.
We rely on your attendance to make important contractual arrangements so if for any reason you need to withdraw please notify us in writing (email) as soon as possible. If notification of cancellation is made on or before February 10, we will refund your payment, less a $100 cancellation fee.
If notification of cancellation is made February 11– February 17, we will refund your payment, less a $200 cancellation fee.
Refunds are not available after February 18 unless we can fill the vacancy, in which case you will be charged a $200 cancellation fee. Refunds, if necessary, will be made by check.
Sun to Moon Gallery Workshops reserves the right to cancel a workshop at any time for low enrollment or for other reasons and will promptly refund all payments made to date.
Waiver of Liability

Sun to Moon Gallery shall have no responsibility or liability for personal injury to any participant, or damage to any participant's property, or for personal injuries or damage to the property of any other person resulting from the participant's involvement in our workshop. We shall have no responsibility for the acts, errors, or omissions of instructors or staff, transportation companies, restaurants, shooting locations or other providers of services to participants in the course of the workshop. We have the right to cancel any workshop and to alter the time, context, or format of any workshop in the event circumstances require it. In the event a workshop is cancelled, for any reason, the extent of our liability is limited to the return of all fees paid to us.

Sun to Moon Gallery
1515 E. Levee Street
Dallas, TX 75207
Phone 214.745.1199