Sun to Moon Gallery Photography Workshop-
Creative workshop with Jill Skupin Burkholder
In our continuing efforts to serve the local photographer community,
Sun to Moon Gallery is pleased to announce a photography workshop
with Jill Skupin Burkholder, sponsored by Competitive Cameras. By limiting the class size to 8, our goals are to super-serve workshop attendees and provide them the best learning experiences anywhere. Call 214-745-1199 to reserve your place.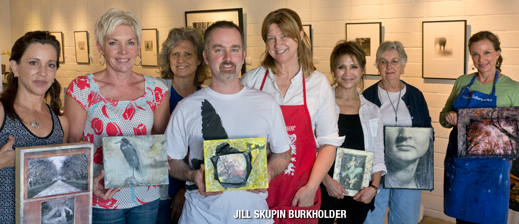 Creative Encaustic Techniques for Photographers
A hands-on, 1-day workshop with Jill Skupin Burkholder

Sunday, March 5, 2017, 9:00 a.m. – 5:00 p.m.
Limited to 8 participants!
Cost: $330.00 . Includes all materials and lunch
SPONSORED BY OUR LOCAL, FULL-SERVICE CAMERA STORE,
COMPETITIVE CAMERAS. Thank you Competitive Cameras!
Working with hot pigmented wax is an ancient method of adding color to an object or art piece. Encaustic methods have been adopted mostly by painters but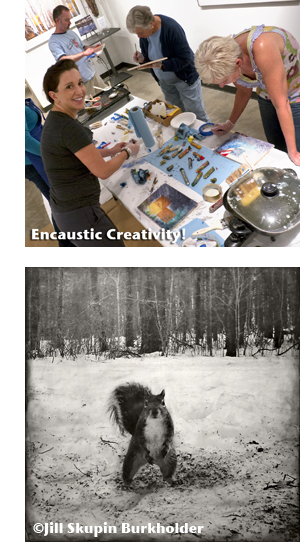 photographers have also been enticed by the translucent wax.

This workshop will explore encaustic options for the photographer and address the specific needs of using digital images as key elements in the encaustic piece.
– Learn the basics of working with encaustic materials plus the techniques that photographers need to incorporate this seductive medium.
– Discover the best Photoshop methods for preparing your digital images with the detail and local contrast you want in your encaustic work.
– Experiment with using an image at different stages in the creation of an encaustic piece whether at the beginning or during the process of adding wax layers.
– Explore using stencils, stamps and imbedded objects to create multimedia pieces.
– Enhance your creative potential by adding textures and encaustic color to your images.
You will go home with at least one finished piece!
Call 214.745.1199 to reserve your place.
Checks, Mastercard & Visa accepted.

Visit Jill's Website to see more examples of her work



- - - - -

ABOUT THE INSTRUCTOR, Jill Skupin Burkholder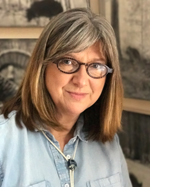 Jill Skupin Burkholder is a photographer/artist whose work includes handcrafted techniques such as bromoil printing, an alternative photography process using brushes and lithography ink to create an image, and encaustic techniques using beeswax and resin.
She began working with photography in 1985 and studied both traditional and digital photography, experimenting with various alternative photography techniques. Burkholder's prints have been exhibited at SohoPhoto in New York, FOTO&PHOTO photography festival in Milan, Italy, Garrison Art Center in Garrison, New York, the Center for Photography at Woodstock, the Gallery at R&F in Kingston, New York, the Texas Photographic Society's traveling Alternative Processes Exhibition and in various publications. Her work is in the permanent collections at The Museum of Fine Art, Houston, Texas, and The Harry Ransom Humanities Center in Austin, Texas.
Jill taught bromoil and encaustic workshops for Santa Fe Photographic Workshops, International Center of Photography in New York, Silvermine Arts Center in Connecticut, Texas Photographic Society, the Center for Photography at Woodstock, Photographers' Formulary, il Chiostro in Italy, and others. She is married to fine art photographer and digital pioneer Dan Burkholder and lives at the base of the Catskills in Palenville, New York.
WORKSHOP DEPOSIT, CANCELLATION and REFUND POLICY
The full amount of $330 is due at sign up.
We rely on your attendance to make important contractual arrangements so if for any reason you need to withdraw please notify us in writing (email) as soon as possible. If notification of cancellation is made on or before February 10, we will refund your payment, less a $100 cancellation fee.
If notification of cancellation is made February 11– February 17, we will refund your payment, less a $165 cancellation fee.
Refunds are not available after February 18 unless we can fill the vacancy, in which case you will be charged a $165 cancellation fee. Refunds, if necessary, will be made by check.
Sun to Moon Gallery Workshops reserves the right to cancel a workshop at any time for low enrollment or for other reasons and will promptly refund all payments made to date.
Waiver of Liability

Sun to Moon Gallery shall have no responsibility or liability for personal injury to any participant, or damage to any participant's property, or for personal injuries or damage to the property of any other person resulting from the participant's involvement in our workshop. We shall have no responsibility for the acts, errors, or omissions of instructors or staff, transportation companies, restaurants, shooting locations or other providers of services to participants in the course of the workshop. We have the right to cancel any workshop and to alter the time, context, or format of any workshop in the event circumstances require it. In the event a workshop is cancelled, for any reason, the extent of our liability is limited to the return of all fees paid to us.
- - - - -
Sun to Moon Gallery
1515 E. Levee Street
Dallas, TX 75207
Phone 214.745.1199