Intro to iPhone Artistry
A Full-Day Intensive Class for iPhone Photographers
with Dan Burkholder, author of "iPhone Artistry"

Friday, February 22, 2013, 9:00 a.m. - 4:30 p.m.
WORKSHOP COST: $169.00
Limited to 20 participants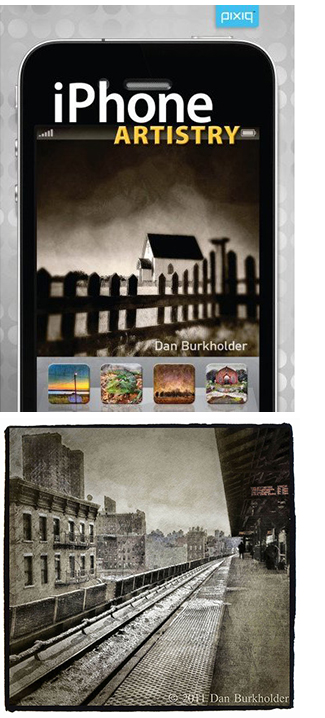 Lurking inside the iPhone is one of the most inspiring, capable and fun imaging systems in all of photography. More than just a snapshot device, the iPhone is a powerful creative tool for creating art, right in our palms.
We now have camera, darkroom, and—as Jerry Uelsmann would say—Visual Research Laboratory, all in our shirt pocket! Liberated from rushing home to our computers, we can shoot and process our images in the field, learning what works (and doesn't) to make our captures match our vision. And when it comes to printing your iPhone images, you'll fall in love with the color, depth and texture in your prints, whether you print your iPhone images as archival inkjet prints or make digital negatives to create handmade prints in the classic chemical darkroom.
Dan Burkholder has a long history of looking over the photographic horizon to see, explore and teach the next great thing in imaging. With an emphasis on crafting images with soul and intrigue, Dan keeps no secrets in this full day of learning. This is your opportunity to discover the power, fun, and stunning output that's possible from your iPhone!
A SAMPLING OF WHAT WILL BE COVERED:
- Learn camera capture techniques that are exclusive to iPhone photography.
- Study combinations of apps that transform your images into fine art.
- See how true HDR imaging is not only possible but easy with your iPhone.
- Borders, Grunge, Tone Mapping - learn the best way to do them all.
- Build your personal "app suite" that gives you all the capture and processing power you need on your iPhone. Get the skinny on which apps are best for contrast, color, sharpening and stylizing your captures.
- Learn how to stitch together multiple iPhone shots to build panoramas and wide-angle captures. Create spatial vistas unique to the iPhone.
- Learn how to quickly and easily transfer images from your iPhone to your Mac or PC with no cables or hassle.
- Explore apps that turn your iPhone into a wifi flash drive.
- Discover iPhone hardware gadgets that you must have!

In this information-packed day we'll cover all the vital areas of iPhone photography. It's time to stop wondering what you can do with your iPhone and time to start making stunning images!
Prerequisites
Participants should have a basic working knowledge of their iPhones and iTunes.
What You Should Bring
For the most part, you will be watching and taking notes but it will be almost impossible to resist downloading, installing and trying some of the new apps and procedures that Dan introduces during the day.
If you want to bring your phone and have it ready to install apps, there are a few things to keep in mind:

- Have the latest iPhone system software installed.
- Make sure you have some space on your iPhone for images and new apps.
- Have an iTunes account in good working order (current credit card on file with iTunes, etc.) so you can make app purchases during the workshop.
- Make sure your iPhone is fully charged or you have an external battery (you will not have access to AC power during the class).
Other Things that Can Help
Bring a notebook and lots of enthusiasm. And come well rested, too!
Cost: $169.00 • Lunch is included · Mastercard, Visa, checks accepted.
CALL 214.745.1199 to sign up. Space is limited to 20 seats.

DISCOUNT OFFER - Attend both of Dan's workshops, Intro to iPhone Artistry on Friday, Feb. 22 and his MASTER CLASS Hands-On iPhone Extravaganza on Monday, Feb. 25 for total cost of only $399. Call 214-745-1199 today to sign up.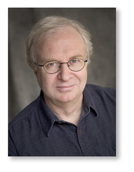 About the Instructor
Dan Burkholder has been teaching digital imaging workshops for 17 years at venues spanning three continents and several island countries. His award-winning book, Making Digital Negatives for Contact Printing, has become a standard resource in the fine-art photography community. Dan's latest book, The Color of Loss (University of Texas Press, 2008), intimately documents the flooded interiors of post-Katrina New Orleans and is the first coffee table book shot entirely using HDR methods. Dan's new book, iPhone Artistry (Pixiq Press, 2011), is the most comprehensive how-to book for artistic iPhone photographers.

Dan's workshops are famous for their energy, information and humor.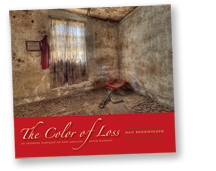 Special Offer for
Workshop Participants only
Save $10 on an autographed copy of
Dan Burkholder's "The Color of Loss"

Dan's The Color of Loss (University of Texas, 2008) documents the flooded interiors of post-Katrina New Orleans and was the first coffee table book made entirely with HDR techniques.
NORMALLY $50- Only $40 for workshop participants

Also coming to Sun to Moon Gallery...
"Dan Burkholder: Exposed"
an exhibition of finely crafted photographic prints
February 21- March 30, 2013
Artist's Reception with Dan Burkholder
Saturday, February 23, 5:00 p.m. - 8:00 p.m.
Sun to Moon Gallery
1515 Levee Street
Dallas, TX 75207
Phone 214.745.1199